Strength
& growth come only through continuous effort and struggle.
Burgeon | Bloom | Blossom & Boom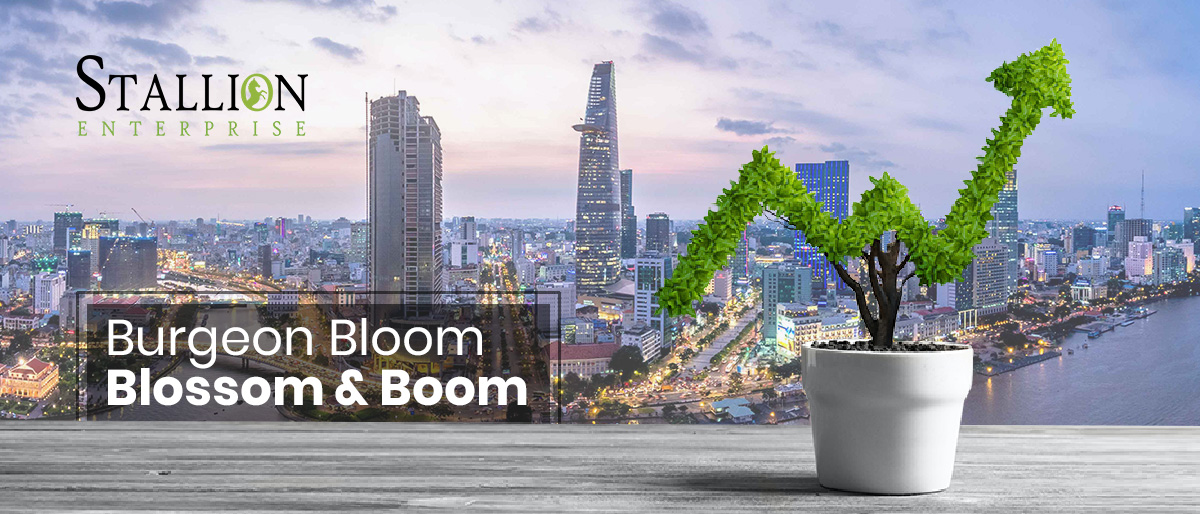 "Strength & growth come only through continuous effort and struggle"; therefore at Stallion Enterprise we leave no stones unturned in taking efforts while striving for success!
Burgeon, bloom, blossom and boom has been the success mantra for us since the inception, ever since our foundation stone has been laid. While enjoying the recognition & popularity as a Government organized Export House, Stallion enterprise has grown as a leading business organization in the field of exports of Agro Commodities.
While savouring the several flavours of success, Stallion Enterprise has gradually established its footprints across the globe while becoming internationally acclaimed as the "Mall of Agro Products". Stallion is processer, manufacturer and exporter of Peanut, Sesame Seeds and Indian Spices under the name of FULETRA AGRO FOODS. We are also into the processing of crude and refined peanut oil. We also export wide range of agricultural products starting from Peanuts, Sesame Seeds, Rice, Indian Spices, Grains, Indian Raw Cotton and Cashew Nuts, Green Mung beans.
While we continue to be the direct manufacturer and exporter of Oil seeds and Peanut Oil, having Europe certified Factory and having steady supplies into Russia, Ukraine, Europe, Far East and Gulf Countries Strengthening global presence spanning from West Africa to North Africa, Asian and European market, we have added one of feather to our cap.
It gives us immense delight sharing that Stallion Enterprise has reached another avenue of success while adding more value to its crowning glory by opening a brand new branch in Vietnam for the Agro Commodity products. Success can never be gained overnight nor did this happen in a day; STALLION ENTERPRISE VIETNAM has come into existence for offering an array of quality Argo products in view of the increasing demand of our customers and to deliver prompt and speedy service to all our business partners. If anyone in Vietnam is looking for assistance for the exportation of commodities then Stallion Enterprise can definitely offer help in the business of exportation. Offering assistance will be possible because Stallion Enterprise is also into third country based businesses in Vietnam, i.e. exporting and importing good and agro commodities in Vietnam. Anyone who is looking for assistance regarding export and import services in Vietnam are requested to get in touch with us at the earliest.
Growth never comes by chance and so while keeping the traits like: quality, integrity, value for money, customer experience, customer satisfaction and timely delivery at focal length we rejoice the inauguration of the new branch at 'the land of the ascending dragon; Vietnam'. While meeting the gap between the demand and manufacturing, we envisage gratifying the requirements of our Clients in the best possible ways.
Listed below are the glimpses of the Agro Commodity Products that will be supplied from Vietnam to our Clients across the globe while taking care of quality:
Split Cassia
Broken Cassia
Stick cassia cut 8cm
Premium Spring Star Anise
Star Anise Canh Dan Type 1
Cashew Nuts Kernel W320
Cashew Nuts Kernel W240
Cinnamon Powder 3% oil
Black pepper 5MM
Black pepper 580 cleaned
Desiccated Coconut High-fat fine grade (60% - 65% oil)
While moving ahead according the simplistic values and processes in the arena of business, Stallion Enterprise ensures keeping in loop the excellence that ensures steady growth and deliverables which are value addition to existing systems. While staying happy and honored by humbled, we will ensure benchmarking the standards and quality of the agro commodity products so that quality continues to be synonymous with Stallion Enterprise's brand name till the eternity!